| | |
| --- | --- |
| Posted on May 1, 2017 at 2:25 PM | |
Thanks to a recently awarded grant from the Rufford Foundation, a team from the Macedonian Mycological society has commenced a new project: ''Fungi of Kosovo: Establishing Fungi Checklist and Preliminary Red List and Proposing Important Fungal Areas''. The project  is to be implemented between 1 March 2017 through 31 August 2018. 
The project goals are compiling a fungi inventory and a preliminary red list of fungi compliant with IUCN criteria, along with proposing Important Fungal Areas based on the presence of rare and threatened species, richness, and habitat mycological significance. The List and IFAs will be crucial for fungi conservation in view of the major threats, as follows: excessive exploitation, fungi habitats' fragmentation and destruction. Public awareness will be raised via media campaign, presentations and promotional material. A  new database (FUNGI OF KOSOVO) will also be created, accessible online, with reference to all identified fungal species of Kosovo. More on the following link.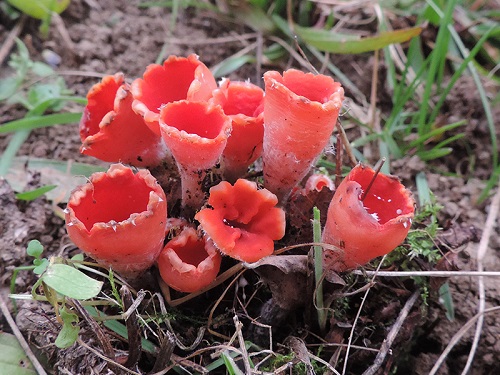 Microstoma protractum. Photograph by Mitko Karadelev.